---
Post Author: Hannah King
---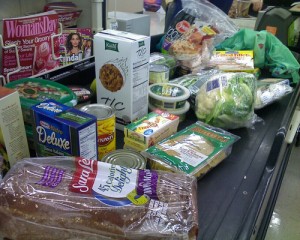 In the last few years, I've gotten really interested in food. I've always loved eating it, but since getting married and cooking for another human being, I've begun to love selecting and preparing it as well. What's more, my eyes have been opened in a small way to the incredibly extensive impact that food has on my own quality of life, on the dynamics of human culture at large, and on the earth in which we all live. In other words, food is a pretty big deal! A friend of mine once pointed out that the average American spends 9 years of his or her life eating. 9 years! As a Christian, which means a person whose whole life is given over to the lordship of Jesus Christ, I've begun to realize that Jesus probably has something to say about what I do with that incredibly important time.
That being said, I don't want to focus on an argument for or against a certain "school" of thought concerning diet, purchasing choices, etc. Rather, I want to confess that in the last few years, the Lord has been convicting me to submit even this part of my life to Him as an act of worship, obedience, and love. What I have found is that this call challenges idolatry on both "sides" of my heart as it pertains to purchasing and eating food:
First, it challenges my idol of pleasure and convenience. Like I mentioned earlier, I have always loved eating. In fact, I love the taste of food so much that I can be in a bad mood all day if I don't get exactly what I want for lunch. Yea. In other words, eating what I want is pretty dang important to me. What if Jesus calls me to abstain from certain foods because of the way those foods are produced? Thanks but no thanks, Jesus. I'll just pray for people in other countries while I chow down on this chocolate that is a product of their enslavement. I'll just wax poetic about God's care for animals as His own creation while I enjoy this mutilated and mistreated chicken that was overgrown for the sole purpose of me getting more meat per bite. Or, maybe I'll be convicted enough to make an effort to be "choosy" when purchasing food, so long as it's within a price range I deem reasonable. Spend more than $2 for a dozen eggs? Don't think so. I'd rather go on claiming that I "can't afford" to do things like that, so that I can keep spending $3 a day on a latte.
Second, it challenges my idol of control and pride. As I've slowly, over time, found some of the above to be a little easier to follow through and do, I've been quick to award myself the badge of "Awesome Human Being." On more than one occasion, I've noticed myself cruising the aisle of Whole Foods (or some equally granola-laden store) feeling oh-so impressed. Wow, look at all of us and our ethical choices! We are truly global citizens, and such good stewards of our own bodies. It's a shame the rest of our fellow Americans haven't fully embraced the truth yet. In other words, I easily begin to believe the lie that I have total control over my own future ("if I eat like this, I won't get cancer") or that my own obedience somehow gives me the right to look down on others ("if you really cared about people in Africa, you'd stop eating that.")
But the reality is that submitting to Christ's lordship over what goes in my grocery cart and what goes in my mouth calls me to repent of both of these idols. I am to obey Him, not my belly or my beloved checkbook. And I am to worship Him, not my (meager!) attempts at following His lead in my life. I am to relinquish autonomy over my eating habits, and the delusion that I am the savior of the world. Christ's lordship takes priority over "the desires of my flesh" to overeat or indulge despite my convictions, and it takes priority over "the desires of my flesh" to control my own health. He is Lord, which means He's in charge– of my choices, my checkbook, and the cancer cells that may or may not develop in my body. It is His lordly care– for chickens, coffee farmers in Africa, and me that makes relinquishing "control" to Him a life-giving and freeing activity.
What about you? Have you given much thought to what Jesus has to say about food? Which idols do you tend toward? What are your fears, values, struggles, or concerns when it comes to food?
---
Hannah King is a student at Redeemer Seminary in Dallas, TX. An intern at her church, Hannah plans to enter the ordination process with the Anglican Church upon graduation. She blogs at 
hannahmillerking.blogspot.com
---
Image by:
Bobbi Newman
Used with
permission
https://media.myworshiptimes31.com/wp-content/uploads/sites/3/2014/01/29170638/Groceries.jpg
400
500
Hannah King
https://youngclergywomen.org/wp-content/uploads/sites/3/2017/05/YCWILogo_Vert_Black-300x229.png
Hannah King
2014-01-07 04:00:24
2014-01-07 04:00:24
What Jesus has to do with My Grocery Bill