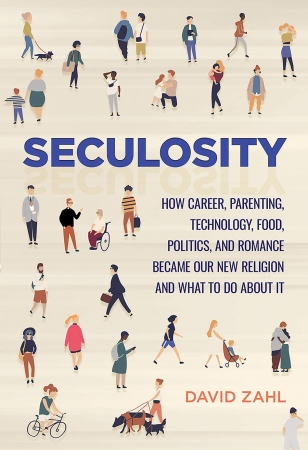 "Do you remember the days when the Sunday school was full and everyone went to church on Sunday?"
"It's such a shame that stores are open and there's soccer practice on Sunday mornings…"
You don't have to be around a 21st-century church very long before you start to hear questions and comments like these. They reflect an ongoing narrative that recalls mid-20th century glory days of the church in which Christians enjoyed power and esteem ( glorious as long as you were straight and white and male, and as long as you did everything the right way…).
The specter of this bygone era of the church has the ability to consume modern faith communities, to push them into a mentality of scarcity over all-we-once-had-and-why-can't-we-just-have-those-things-again.
Anxieties rise. New programs launch to make the church exciting and relevant once more. Maybe this time we'll turn the tide.
Why don't people seem to want religion anymore?
In a new book out this month, David Zahl, founder and director of Mockingbird Ministries takes this question head-on, with a perspective that offers the possibility of a way forward.  The book is called Seculosity: How Career, Parenting, Technology, Food, Politics, and Romance Became Our New Religion and What to Do about It.  In it, Zahl explores the possibility that our culture is not becoming less religious at all, but rather we are becoming religious about more and more things.
He uses the neologism 'seculosity' to describe the many activities and identities to which modern Americans devote a zeal that can be described as nothing so accurately as religious. From leisure activities (SoulCyle or CrossFit?) to parenting style (attachment or Babywise?) to political identity and work, from Zahl's perspective, these are more than activities, they become part of people's identities. These seculosities offer not just community, but a justifying story of their lives, a frame through which to see the world, a mechanism by which they can establish a sense of "enoughness." They offer identity, community, meaning, purpose in ways that religion once did in wider society.
The problem arises, he argues, when we realize that no matter how much we devote ourselves to these pursuits, there is always more we could be doing or accomplishing or achieving. We could find our soulmate and get started on happily ever after. Our kids could win more awards. We could work harder, advance faster, earn more. But the focus on all of this makes the fact that the achievement of the goals we create for ourselves is an ever-vanishing horizon. Read more
https://media.myworshiptimes31.com/wp-content/uploads/sites/3/2019/04/29165210/seculosity-jesus-review-apr-2019-featured.jpeg
200
300
Charlotte LaForest
https://youngclergywomen.org/wp-content/uploads/sites/3/2017/05/YCWILogo_Vert_Black-300x229.png
Charlotte LaForest
2019-04-04 09:35:46
2019-08-15 14:06:35
Enough with "Enough": A Review of Seculosity by David Zahl