---
Post Author: Stephanie Sorge
---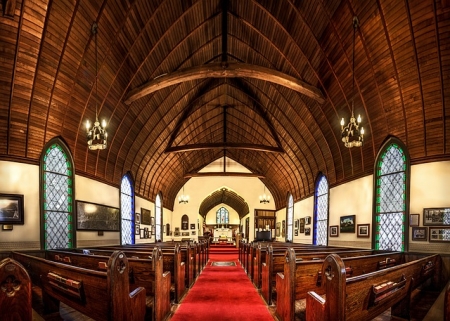 My boys love going to church. On Sunday mornings, as I'm rushing to get out the door, they are moving quickly right with me, excited to get there. It is amazing and gratifying and humbling to witness, and I do not expect it to last forever. I will cherish it while it does. 
​The truth is that Sundays in many homes where people are trying to get out the door to church are not always peaceful and pleasant. But often, as soon as they enter the doors, there is a transformation. Arguments pause, smiles return, and all is well once again. Through unspoken agreement, we participate together in the rhythms and rituals of worship. It's holy space, but susceptible to the overcrowding of the mundane or the lull of familiar patterns.
​Inspired by some musings shared by members of Young Clergy Women International, I present to you "Let's Be Honest: A Guide to Worship."1
A Service of Holy Worship (annotated)
Prelude

​(
Sit, and Quiet Thyself and Thy Cellphone)
Welcome and Announcements​
(Latecomers may continue to arrive without shame)
Call to Worship and Opening Prayer
(Time to settle down, really)
Opening Song of Praise​: It's Morning, Thanks God!
(Stand up, and get happy! Latecomers can sneak into rows near the back.)
Confessing our Sins
(Don't worry – we won't get too personal here…)
Declaration of Forgiveness
(…and we'll move quickly to this good news each week!)
Passing of the Peace
(best time for the really late latecomers to sneak in)
Prayer for Illumination
May the words of my mouth not be awful,
And the meditations of our hearts not wander to grocery lists,
Through the power of the Holy Spirit, Amen.
First Scripture Reading: Disturbing Story of Violence
Second Scripture Reading: Puzzling Things Jesus Said
Sequence Hymn: We'll Forget The Gospel We Just Heard Before The Sermon Even Starts
Sermon: ​Giving It My Best Shot
Hello nonsense, my old friend,
I'll try to preach with you again.
Because my words are making no sense,
Explaining Scripture just makes me tense.
Yet the vision that was planted in my brain
Still remains.
And so I preach…
This sermon.2
Hymn of Response: ​God, You Call Us Not to Be Such Jerks
Affirmation of Faith
(Where we affirm what "we believe," even as most of us definitely don't believe everything in these sacred, ancient creeds)
Offering
(Pat the Pockets, Pass the Plate)
Doxology
(Church version of the 7th Inning Stretch)
Communion of the People
(Where we proclaim an abundant feast, but distribute just enough to make your stomach growl, quite audibly)
Sending Hymn​
We Are Gonna Try Harder This Week
Benediction
Sung Benediction​​
(But Let's Be Honest, We'll Probably Be Jerks Again)
Postlude
​(Nobody is Listening Because We All Are In Desperate Need of Bad Church Coffee)
​
Honestly, going to church on Sunday mornings is not easy. It's not easy for those of us who get paid to be there, and certainly not for those who don
't. Forget turning water to wine – it's really a miracle that we all show up each week, participating in this ancient ritual in the midst of lives that are too full and overly scheduled. But week after week, we do. Why do we do it?
If we're really being honest, I think – at least sometimes – we still expect God to show up. My theology assures us that God is always there, preceding us, gathering us to worship, and revealing God's truest self to us in the Word proclaimed, in the mystery of Sacraments, in the body of Christ, and through the movement of the Holy Spirit. As someone who is there week in and week out, I know that sometimes things really hum and sometimes it's just a little humdrum. But each week, God is there. Christ is present in the body gathered, and the Holy Spirit is moving in and through us.
​We might come with Sunday morning arguments ringing in our ears, the fatigue of the week weighing heavily on us, going through the motions out of habit. But habit becomes ritual, which can shape our lives and renew them. At our best, we come not decked out in our "Sunday best," but rather just as we are. At its best, the church is the place that holds space for the weeping and the rejoicing, a place that doesn't expect those who walk through the doors to have it all together, or to have everything figured out.
​We show up because our souls need it. We need the connection to that which is much larger than ourselves.
Connection to a community of people more diverse than ones we might otherwise seek out and join.
Connection to the community and world in shared work and mission.
Connection to the Divine whose image we each bear.
In the midst of all the mess of the world around us, we need to receive love, be reminded of the hope we share, and go out bearing that love and hope into the world. Let's be honest: we need all of this now more than ever before. So get to church!
_____________
1 The initial inspiration started with a post from the Rev. Emmy Masselink Kegler
2 Adapted from the Rev. Katey Schwind Williams
---
Stephanie is something of a worship nerd, and really appreciates a good worship service. She's served congregations in Kentucky and North Carolina, and now serves the church gathered as Trinity Presbyterian in Harrisonburg, Virginia, where her two boys love going to worship.
---
Image by:
VinnyCiro
Used with
permission
https://media.myworshiptimes31.com/wp-content/uploads/sites/3/2019/07/29165057/FC6A907B-0320-4E4F-946B-DDB2ECB566B8.jpeg
457
640
Stephanie Sorge
https://youngclergywomen.org/wp-content/uploads/sites/3/2017/05/YCWILogo_Vert_Black-300x229.png
Stephanie Sorge
2019-07-11 11:56:20
2019-08-15 14:03:02
Let's Be Honest: A Guide to Worship