---
Post Author: Erin Clausen
This service was conducted by Pastor Jessica Harren at Long Prairie Cemetery on May 25, 2014. We share it here in preparation for an American holiday, Memorial Day, with the knowledge that most other nations celebrate a similar day of remembrance for those who have died in service to their country. You are welcome to use or adapt the service below; please credit Fidelia's Sisters. Buglers can be requested at www.buglesacrossamerica.org/RequestABugler.aspx.
---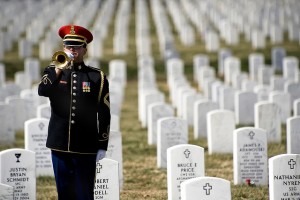 P: We gather together this morning to celebrate.
C: We celebrate a country of promised freedom, and the continuing commitment to ensure that all people might call themselves free.
P: We celebrate the many men and women who have served in the military at our behest.
C: We celebrate the courage and commitment of thousands of service people who have given their all in service to their country.
P: We gather this morning to honor.
C: We honor all who have left behind family, friends, and community to serve in the military.
P: We honor those who have loved these United States enough to risk everything for her prosperity.
C: We honor men and women throughout the years who have dedicated their lives to our freedom and our rights.
P: We gather this morning to lament.
C: We lament the state of a world where war seems the only or most expedient answer to our nation's problems.
P: We lament the state of our nation which welcomes men and women back from war zones with silence and refusal to hear the stories of war.
C: We lament the state of our souls, ready to send others to do what we would dare not – and then refusing to recognize our own culpability in what they have done.
P: We gather this morning to mourn.
C: We mourn for all those who have given their lives in wars they believed in.
P: We mourn for all who have sacrificed their lives in wars they didn't believe in.
C: We mourn for all who survived war zones, only to lose their lives in the fight against mental illness.
P: But most of all, we gather this morning to remember.
C: We remember the service personnel we have loved and lost.
P: We remember the sacrifices of so many in the service of their country.
C: And we remember our God, who redeems the unredeemable, forgives the                           unforgivable, and encourages that we love – both our neighbor and our enemy.
P: So, this morning let us celebrate, honor, lament, mourn and remember. And, as President Abraham Lincoln concluded his second inaugural address:
With malice toward none, with charity for all, with firmness in the right as God gives us to see the right, let us strive on to finish the work we are in, to bind up the nation's wounds, to care for him who shall have borne the battle and for his widow and his orphan, to do all which may achieve and cherish a just and lasting peace among ourselves and with all nations.
A Reading from Romans 8: 31-39:
31 What, then, shall we say in response to these things? If God is for us, who can be against us? 32 He who did not spare his own Son, but gave him up for us all—how will he not also, along with him, graciously give us all things? 33Who will bring any charge against those whom God has chosen? It is God who justifies. 34 Who then is the one who condemns? No one. Christ Jesus who died—more than that, who was raised to life—is at the right hand of God and is also interceding for us. 35 Who shall separate us from the love of Christ? Shall trouble or hardship or persecution or famine or nakedness or danger or sword? 36 As it is written:
"For your sake we face death all day long;
we are considered as sheep to be slaughtered."
37 No, in all these things we are more than conquerors through him who loved us. 38 For I am convinced that neither death nor life, neither angels nor demons, neither the present nor the future, nor any powers, 39 neither height nor depth, nor anything else in all creation, will be able to separate us from the love of God that is in Christ Jesus our Lord. Word of God, Word of Life.
C: Thanks be to God.
Time of Story Sharing
P: God of love and justice, it is your will that we live together in peace. Yet we live in a world in which war often seems inevitable. May we recognize with humility and sadness the tragic loss of life that comes in war. And as we enjoy freedom, we give thanks for those who have served with courage and honor; for those who resist evil and preserve justice.
We give thanks for those that are willing to serve. Let all soldiers everywhere serve with honor, pride, and compassion. Do not let their hearts be hardened by the actions they must take. Strengthen their families and keep them surrounded and guided by your love. We thank you for those that put the welfare of others ahead of their own safety. Let us all be inspired by their self-sacrifice in service to those who need protection.
We give thanks for those that have made it possible for us to have freedom. Let us call to mind and name those individuals who have served their country . . . . . . . .
We ask that you be with those in pain from their loss and keep us mindful that you have promised to comfort those that mourn and help us to be a comfort to them as well.
C: Amen.
Music for Meditation and Prayer
Taps by First Lieutenant Alicia Smith, Bugles Across America
Dear God, by your grace, may we have the strength and courage to truly honor those who have served by working for peace. May we see in them not only their courage, but also our own call to work for a world that no longer sacrifices life in the quest for peace; that we might envision in our hearts and work in our lives toward that which you have promised through the prophet Isaiah: that day when swords will be beaten into ploughshares and spears into pruning hooks, that day when nation shall not rise up against nation, and that day when we shall not learn war any more.
C: Amen.
---
This post originally appeared on the blog of Pastor Erin Clausen (http://crawlingbyfaith.blogspot.com/2010_06_01_archive.html). Erin writes: "I'm sometimes a little cranky, rather feminist, uncomfortably post-modern, and a bit progressive. I'm geeky enough to love chatting about theology, science, and philosophy - and GenY enough to hate chatting about politics (but I will if you really want to...). I'm also the pastor at St. James Lutheran Church in Western Springs, IL. We're a small church with a big heart - and we're glad to show it!
---
Image by:
Beverly & Pack
Used with
permission
https://media.myworshiptimes31.com/wp-content/uploads/sites/3/2015/05/29170226/3560856061_20a83080d0_z.jpg
426
640
Erin Clausen
https://youngclergywomen.org/wp-content/uploads/sites/3/2017/05/YCWILogo_Vert_Black-300x229.png
Erin Clausen
2015-05-19 04:00:42
2018-11-13 11:39:15
Memorial Day Remembrance