---
Post Author: Rev. Mariclair Partee
---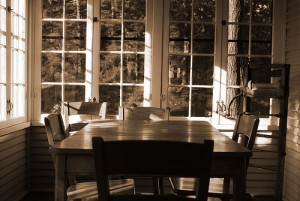 Since my 25th birthday, I have lived in eight different places. Included in these were a move from far south to far north for seminary, then to a first call deeper into the northeast, and even a touch deeper with the call I accepted almost four years ago. Even within that final move there was a second, across town. I knew when I chose to answer a call to the priesthood that there was an itinerancy to the ministerial life, and the frequency of my moves has meant that "home" is a moving target. Over the past decade I have caught myself, in every day conversations, using home to refer to both the state where I currently live and the state where I grew up- "I'm headed home on the 15th to Georgia to visit my folks, but will be coming back home to Pennsylvania on the 30th."
I have made these moves unaccompanied, aside from assorted dogs, and to be honest: I enjoy living alone. I like knowing that the thing I put down in a certain place will be in exactly that place the next time I look for it, and waking to calm, silence, and unhurried tea making is a luxury that I do not take for granted. In my world the dining room table is a completely acceptable place to sort, fold, and eventually just sort of store the laundry, until company is coming over.  Dinner can be a three-course production or a handful of cheezits and some leftover Halloween candy, and there is no one to judge me (the dogs are bought off by a few cheezits). Throughout the seminary stage of my life, my home was full whenever I wanted it to be, and if I felt the need to be a passing extrovert, I walked down the hall and knocked on a friend's door. I might have been the only person in Manhattan with a dining table that sat twelve in a 700 square foot apartment, and it was used well and often.
And then I was ordained, and moved away from the constant hum of seminary to a new town, and then another. The big table moved with me, but the leaves mostly stayed in storage, and the extra chairs I kept folded in reserve rarely saw use. Long days and redefined "weekends" and figuring out what social boundaries looked like on the ground of relationships with people in my parish all added up to less entertaining, dinners for two instead of twelve. Friends from my class dispersed, called to Washington state, Michigan, farther into New Jersey and New York. As we scattered to the wind, there also went our rootedness. The feeling set in that each new place that I moved into was a stop on a way to a future settled-ness, loving and investing in each of my congregations but knowing that, as long as I was an assistant minister, I hadn't found my resting place yet.
And then came Hurricane Sandy.  
Through a fluke, when this superstorm hit the northeastern United States, my block kept power while all of those around me went dark. This had happened once before during a freak October blizzard, and a few parishioners had taken me up on my offer of hot showers and cell phone charging. That storm had only taken power out for three days, this one was estimated at seven for some, so I made the offer again- and soon found myself with a living room full of families. My Wii, which had been used solely to stream movies before, became a popular feature with the kids. Calls went out, and as more came with their parents, extra remotes were brought, and there were four player tournaments. My dogs were over the moon with the attention, taken for almost hourly walks by young volunteers.
The parents gathered around chatting, the shower and washing machine in constant use, and board games came out. Refrigerators and freezers had been emptied for fear of spoilage, and so all of my pots and pans were put to use and the kitchen was a flurry of activity. Eventually we all sat down for dinner- every leaf in the table, every chair out. We passed bowls and dishes for a strange feast of bratwurst, eggplant parmesan, Thai shrimp curry and pork noodle dishes, and macaroni and cheese. Later on sleeping bags were unfurled.
It wasn't all a peacable kingdom, there were mini-tantrums and frazzled nerves from the stress of not knowing when things would get back to normal, occasional losses of patience between a parent and a child, but that made it feel all the more normal, natural. In the midst of the chaos I got to sit back and observe, my heart warmed by the community I hadn't realized I had become a part of in this place. Friends and parishioners all gathered comfortably under one roof, my roof, and I loved this little foretaste of the Kingdom of Heaven on Earth.
Eventually, the power came back on in the surrounding counties, and one by one folks returned to their own houses. When the last family left I was at a worship service, and so I returned to a suddenly silent, empty apartment. Someone had left dinner in the fridge for me, and as I ate I became aware that while I had been busy working and running from thing to thing, roots had grown without my noticing. I settled into the welcome calm again, understanding that my house had become a home.
Photo by John Kochmanski, http://www.flickr.com/photos/johnekhaos/2874823357/ , November 12, 2012. Used by Creative Common License.
---
https://media.myworshiptimes31.com/wp-content/uploads/sites/3/2012/11/29170928/Table2.jpg
335
500
Rev. Mariclair Partee
https://youngclergywomen.org/wp-content/uploads/sites/3/2017/05/YCWILogo_Vert_Black-300x229.png
Rev. Mariclair Partee
2012-11-13 04:00:39
2018-11-13 11:46:39
When a House Becomes a Home