---
Post Author: YCW PR Committee
---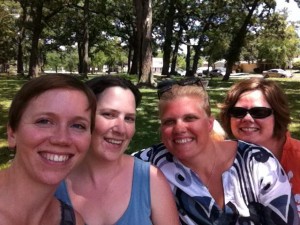 Many of our members have excitedly jumped on board for our very first Meet-Up Week, scheduled for February 16-21, 2014.  (If you're still looking for one to attend, the link to the map is here.)
But maybe you're hanging back, waiting to see how it goes first before jumping in.  Or maybe you're thinking "I am way too busy to add anything else to my schedule," or "there is nobody anywhere close to me."  Maybe gathering with other clergy women of any age is considered suspect, or at least odd, in your denomination.  If you're not currently a member of the project but fit within our audience, maybe you're still testing the waters of The Young Clergy Women Project.
Meet-Up Week is a way to dip your toes in before deciding whether to take the plunge and get involved in the Project.  But more importantly, it's a way to carry out the Project's mission: to remind young clergy women everywhere that they are not the only ones.  What better way to do that than by actually gathering together in person?
Several metropolitan areas have standing YCW gatherings that meet on a regular basis.  They are already reaping the benefits of gathering in person.  And not all of them are in large cities, as you might assume.  (Portland, Oregon?  Oklahoma City?  Albany, New York?  All have their own regularly meeting young clergy women group.)
What happens at these gatherings?  Here's a sampling:
Close friendships, beyond mere acquaintance
Colleague relationships that are actually supportive
Accountability—but also a safe place to vent and brainstorm how to deal with tough situations
Resource and idea sharing (Can you all help me with our wedding policy and fees?  What commentary/curriculum did you use again?  What did you say when you negotiated your maternity leave?  How am I supposed to deal with my senior pastor/council president/deacon/elder/clerk of session/trustees/rector/secretary?  You get the idea.)
People who just "get it"–no explanation required
Common ground that transcends denominations
Shopping buddies for buying clericals and vestments
A safe place to discern and ponder transitions and moves (many groups are ecumenical…so don't worry, these women aren't from your presbytery/conference/synod/classis/cluster/etc.)
Connections made for the sake of young clergy women everywhere, not to mention future young clergy women
Chalk it up to the Incarnation—technology is great, but there's just nothing like being together in the same room.  As one YCW put it, "Sometimes you just need to see the love and support you have.  Gathering once or twice a month is a life-giving thing for me.  We've been meeting for 1.5 years now and I eagerly look forward to it each and every month."  Another YCW in the same group shared, "It [this group] is one of the few places I can be wholly me—clergy, mother, wife, daughter, sister, friend.  These women know all about my life, all the parts, and we support one another fully."
Our annual Young Clergy Women conferences are another place to find this support, but even if everyone had access to the time, money, and childcare needed to attend, let's get real: the conference only happens once a year!  It takes time to develop the trust and safety necessary.  Meet-ups have the ability to provide the deeper support we need, when we need it, where we need it.
So if you've been on the side of the pool, wondering if this is the party for you, kick off your flip-flops and dip your toes in.  You never know, you might just find the very thing that will keep you afloat for years to come.
---
Image by:
Katherine Willis Pershey
Used with
permission
https://media.myworshiptimes31.com/wp-content/uploads/sites/3/2014/01/29170626/writing_ladies.jpg
480
640
YCW PR Committee
https://youngclergywomen.org/wp-content/uploads/sites/3/2017/05/YCWILogo_Vert_Black-300x229.png
YCW PR Committee
2014-01-31 02:00:16
2014-01-31 02:00:16
Sometimes You Just Need to See the Love