---
Post Author: Molly Field James
In response to the domestic terrorism which took place in Charlottesville, Virginia over the weekend of August 11-12, Fidelia will be publishing sermons and prayers written by the leadership of Young Clergy Women International for the remainder of August. May our voices and our actions join the chorus that speaks love in the face of hate, truth in the face of fear.
The following sermon was preached at Christ Church Cathedral in Hartford, Connecticut, on August 20, 2017.
---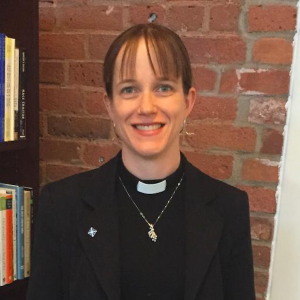 Rev. Molly F. James, PhD
Christ Church Cathedral, Hartford, CT
August 20, 2017, Proper 15A
Romans 11:1-2a, 29-32; Matthew 15: (10-20), 21-28
May God's Word be spoken. May God's Word be heard. May that point us to the living Word, who is Jesus Christ our Lord. Amen.
As a part of my PhD program, I spent three months living in England, which was a wonderful experience in many ways. There was, however, one huge downside. My husband Reade is a mechanical engineer. There is no such thing as a sabbatical in the engineering world, so he could not pick up everything and move to England with me. So I lived in England by myself. That is a challenging experience if one has been married for some years. But we found some wonderful ways to stay connected, even across an ocean. One of the ways came as a complete surprise to me. When I had settled into my apartment in Exeter and I turned on my computer for the first time, a window popped up with a message: "Hi Molly, 28 days until I come visit you. Love, Reade." A new message popped up everyday counting down the days until he came to visit. And then messages popped up counting the days until I flew home.
I have been thinking a lot about the power of words this week, and that story came to mind. It is amazing how a few words can have a huge impact. That computer program was only a few lines of code that probably took my husband (who can code in five different programming languages) a few minutes to write, but those few words brought weeks of happiness. I smiled everyday when that note popped up. I still smile whenever I think of that story.
The news of the past few weeks has reminded us how destructive and hate filled words can be as well. Words matter. They matter a lot. That is exactly what our Gospel lesson is telling us this week. "Jesus called the crowd to him and said to them, 'Listen and understand: it is not what goes into the mouth that defiles a person, but it is what comes out of the mouth that defiles.'" What we say and how we say it matters a lot. There is a nursery rhyme that goes, "Sticks and stones may break my bones, but words will never hurt me." That is false. Words have the power to hurt, and they have the power to heal. The events of the last two weeks have reminded us that statements of hate, bigotry or racism can cause great pain. They cut to the core. The events and stories in around Charlottesville have showed the power of words. It matters whether we call an act of violence a tragedy or an act of terrorism. The words we use to talk about events in our nation and around the globe matter. It matters how we refer to a perpetrator or a victim. Do we use our words to carry out our baptismal promises to seek and serve Christ in all people? Do we use our words to respect the dignity of every human being?
If we come back to a personal level, think of how powerful our words can be – for harm or for good. Think of what it means to hear someone say, "I never want to see you again." Think of how much it mattered you to hear someone say "I am sorry." What a gift it is to hear someone say, "I love you." Truly, just a few words can transform our world.
This is also evident in the second half of our Gospel reading today. Jesus tries to send away the Canaanite woman who is seeking healing for her daughter. But she is undeterred, and argues with Jesus. It is her words (and likely how she said them too) that reminds him that he is, in fact, called to serve all people regardless of their background. The words of the Canaanite woman had the power to bring about healing for her daughter.
In this era of rapid communication when we can respond immediately to an email or a text, a Facebook post or a tweet, it can be easy to forget how much our words matter. And to forget that when we put them on the internet they are there forever!
It is far too easy to speak or write without thinking. Far too easy to forget to reflect on the impact our words could have.
Or we can also let our fear win out, and we can fail to speak up when it matters. I am sure many of us have stories of the things we wished we said, especially to someone who is no longer with us. Speaking up, speaking truth to power matters too.
Hospice chaplains often speak of the gift of hospice care and the fact that it allows people time to say the things that really matter in life. To say: "I love you." "Thank you." "I am sorry." "I forgive you." and "Goodbye."
What would it look like if we didn't wait until we were in hospice care to say what mattered? And what if we took more time to think before we speak – especially when we feel hurt?
Words have power. That is part of why the experience of gathering here on Sunday mornings to hear stories and recite prayers that have been said by generations before us is such a meaningful one.
What comes out of our mouths matters. What we say matters. Words matter. I hope that in the coming days and weeks we will have the courage to speak up whenever we have something important to say, whether it be on a personal or a global level. And I hope that we will each have the grace to always use the power of our words for the building up of God's Kingdom.
AMEN.
---
Molly Field James is an Episcopal priest who serves on the Bishops' Staff as the Dean for Formation for the Episcopal Church in Connecticut. She holds a PhD in Theology from the University of Exeter (UK). She holds a MDiv from Yale Divinity School. She is an Associate Priest at Christ Church Cathedral and Grace Church in Hartford, Connecticut. She is currently an adjunct faculty member at Hartford Seminary and the University of St. Joseph. Previously, she has served as a parish priest and a hospital chaplain. Her husband, Reade, is a mechanical engineer, and they have two children, Katherine who was born in October of 2010, and Halsted who was born in April of 2014. In addition to ministry and education, Molly loves cooking, reading, films and spending time in the splendor of God's Creation.
---
Image by:
Molly Field James
Used with
permission
https://media.myworshiptimes31.com/wp-content/uploads/sites/3/2017/08/29165636/molly-field-james-featured.png
200
300
Molly Field James
https://youngclergywomen.org/wp-content/uploads/sites/3/2017/05/YCWILogo_Vert_Black-300x229.png
Molly Field James
2017-08-29 04:00:35
2018-11-13 11:33:48
The Power of Words