---
Post Author: Name Withheld
---
Editor's Note: This essay is the first in a two-part series. Look for the second installment in April's edition of "The Ones We Love."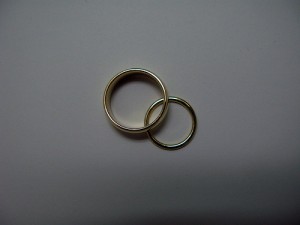 While there is much I don't remember about my wedding day, the words of the vows I made have stuck with me over the years.  "For better or for worse," I promised.  "In sickness and in health," I said through tears, "till death do us part." As I have told my family since then, I didn't realize the intent, the commitment and the power of those vows.  And I also didn't realize the "sickness" and "worse" would come so damn soon.
As a couple, we've had our share of normal struggles.  Injury free car accidents. Late-night, door-slamming arguments.  Necessary but not frightening surgical procedures.  Financial fretting and home-owner worries.  We've also had a share of the more unusual and painful circumstances that life can bring.  Three weeks spent in the NICU waiting for our newborn son to recover after surgery on his third day of life.  Uncovered evidence of addiction and emotional infidelity.  Couples Counseling.
But I didn't really know what the "for worse" of my wedding vows meant till now.
My husband was arrested mere days before Christmas on several charges of indecency with a child.  His face, name, and history were splashed all over our local (and not so local) news, in the paper, and on the internet where commenting trolls have already pronounced him guilty.  He was asked to resign from his job and had to find a new one before his background check would reveal his new felony-arrest record.  I even had to fend off an eager television reporter who came to our house to get an interview.
Our friends and family have been deeply supportive.  His grandfather paid the bail-bondsman's fee ($20,000) and our parents are paying for the lawyer's fees ($15,000).  Our friends have prayed with us, cried with us, and continue to uphold us.  My church has been very understanding, giving me 3 weeks of paid-leave to escape from all the vultures surrounding us, allowing us the freedom to flee the city into the arms of family up north.   My husband still attends church and is treated no differently, but has had to step down from everything he was involved in until our situation gets "resolved."  Whatever that means.
But…life is still painful.  We are awaiting his trial, which continually gets pushed back and back and back as the court system is grossly overburdened.  And I am struggling (with the help of a paid and licensed counselor) to keep my worst fears about the future at bay.  At best he could be acquitted and at worse he could be sentenced to over 100 years in jail.  And any deal the DA might offer us him will at least require him to register as a sex offender for the rest of his life.  Which I think of as the modern day equivalent of leprosy – "Look! It's the PERVERT! UNCLEAN!"
So until trial, until we know what the future will bring for us, we are like mosquitoes captured in amber.  The second child we know we want to have?  Not even an option.  Pursuing another ministry call so I can serve, finally, as a senior pastor?  And tell them what? "Oh, by the way, my husband might be in jail soon." Or even better, "Does your church have a policy about sex offenders?  Because my husband might be one."
This is not the life I imagined when I spoke those vows only four years ago.  When I said "for better or for worse," I assumed it would only really be better.  But now, those vows mean more to me than I could ever have imagined.  Because, despite the fact that my ministry career would be easier if I divorced my husband, despite the fact that I may end up a de-facto single mother to our son, despite the fact that I may never get to have another child, I am going to keep my vows.  Whether or not my husband is innocent or guilty (though I believe him to be innocent), I am going to keep my vows.  Whether or not my husband is forced to register as a sex-offender wherever we move, I am going to keep my vows.  Whether or not a church ever calls me to be its pastor, I am going to keep my vows.
We are one flesh.  And we will NOT be torn asunder.
Photo Credit: grenade
Are you an ordained woman under the age of 40? Email youngclergywomen (at) gmail (dot) com to become a member of the Young Clergy Women Project! Members receive access to a password protected online community, monthly e-newsletters, and advance notice of upcoming conferences and events.
---
https://media.myworshiptimes31.com/wp-content/uploads/sites/3/2012/03/29171106/rings.jpg
375
500
Name Withheld
https://youngclergywomen.org/wp-content/uploads/sites/3/2017/05/YCWILogo_Vert_Black-300x229.png
Name Withheld
2012-03-15 02:00:01
2018-11-13 11:48:11
For Worse (Part 1).