---
Post Author: Rev. Miranda Hassett
---
Psalm 107:23-32 (St. Helena Psalter)
Some went down to the sea in ships,
         and plied their trade in deep waters.
They beheld your works, O Lord,
         and your wonders in the deep.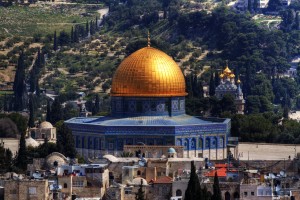 In 1995, I was a junior in college. I had the opportunity to study abroad, and so I did. I was bright, curious, and ambitious. I thought I was ready. I thought it was the kind of thing a student like me, a person like me, should do. I chose the program at Hebrew University in Jerusalem. I was a double-major in Religious Studies and Anthropology, with an interest in archaeology; and I was a lifelong Christian, curious to see the land where my faith was born. Jerusalem seemed like an obvious choice.
The study abroad program started early in August with a Hebrew language immersion class, before the school year proper began. I arrived in Jerusalem with many other students from around the world, and we settled ourselves in the student lodgings at the secondary campus, across town from the university.
Jerusalem was beautiful and surprising and strange: that great, golden, hilly city, full of the ancient and the brand-new, all mixed up together. I was entranced by walking the streets of the Old City, buying trinkets from merchants on streets that Jesus may have walked; seeing the Wailing Wall, last remnant of the Temple where Jesus preached;  traveling to the Negev and to Galilee, as the landscapes of the Gospels became real in my heart and mind as never before. Every day was breathtaking.
Then you spoke, and a stormy wind arose,
         which tossed high the waves of the sea.
They mounted up to the heavens and fell back to the depths;
         their hearts melted because of their peril.
They reeled and staggered like drunkards,
         and were at their wits' end.
I've started with what was good and exciting about the trip, but truth be told,  it's difficult to separate that out from what was hard about it. I was kind of a mess before I even got there. A month before I left the country, my boyfriend of three years broke up with me. It was my first big heartbreak. I hoped a change of scene and the adventure of the trip would help, but in reality, it just meant that I was separated from my family and friends when I needed them most. I made some tentative new friends among my fellow students, but frankly, I was in too much pain to try very hard. I was also struggling to come to terms with the politics of Israel, the sharply-drawn religious and ethnic lines, which I hadn't given much thought before setting foot in the country. I heard the word "Arab" used as if being Arab automatically meant bad and dangerous, as in, "Don't walk around the campus at night, an Arab could get in." I met and talked with Palestinians, I listened to their stories. I refused to find them intrinsically dangerous. The scorpions in the bathrooms – those scared me.  The young Palestinian Christian man who met with me to tell me about his people and their plight – he wasn't scary at all.
Then, about three weeks into my time there, on August 21, 1995, I was riding the bus across town to the main campus first thing in the morning with other students when another bus, half a block ahead of us, exploded. Five people were killed, including the suicide bomber. A hundred were injured, many severely. My memories of the day are jerky and confused. I remember people running away from the accident site in horror and fear, and others running towards it to offer help. I remember a kind young Israeli woman who lived in a nearby apartment and gathered me up, with several other stunned international students. She took us inside and made us tea, and eventually put us in a taxi to school. I remember arriving at school, finally, in the middle of the day, to find classes cancelled and grief counsellors meeting with students to help us process. They were, unfortunately, well-practiced at handling such events.I remember calling my parents to tell them I was safe. They were asleep and hadn't even heard the news yet.
Coming on top of everything else, that explosion nearly shattered me. I was utterly overwhelmed. I had no inner resources with which to rebound or rebuild. I was isolated, displaced, miserable and terrified. I felt completely vulnerable, and almost completely alone. The exception to the almost was God. In the days following the bus bombing, I remember spending the evenings sitting on the hillside near our dorms, looking out over Jerusalem – the golden city, the great, holy, broken city – and reading the Psalms from the small red Book of Common Prayer that I had brought with me, a gift from my campus ministry community back in Bloomington. It was then that I discovered Psalm 107, and especially the section that begins, "Some went down to the sea in ships…" That story about the adventure that turned terrifying – I recognized it immediately and deeply as my story. My heart was melted within me. I was at my wits' end. I read the Psalm and its promise of salvation, again and again, and again and again I prayed: Just let me survive this. The physical danger to my body, the deep pit into which my soul has fallen… Just let me survive.
Then they cried to you in their trouble,
         and you delivered them from their distress.
You stilled the storm to a whisper,
         and quieted the waves of the sea.
Then they were glad because of the calm,
         and you brought them to the harbor they were bound for.
My parents wanted me to come home immediately. They'd been worried about me already; they knew this was too much. But I refused. Coming home to another ordinary year on campus felt like giving up. It felt like a failure, and I was afraid it would be the last straw that would break me completely. But because I was a very lucky and loved and privileged young lady, my parents were able to work with the people at my university  and make me another offer, some days later: I could come home, rest, re-pack my bags, and join the study abroad program at the University of Kent in Canterbury, England, instead. It didn't start until October, and several of my friends were going. Given an attractive alternative, I was persuaded to come home from Israel, repack my bags with plenty of sweaters, and fly off to England. Looking back, I feel incredibly blessed by this opportunity. Canterbury was a very healing place for me, charming and beautiful and among friends, and with the spires of the cathedral, the spiritual center of world Anglicanism, always on the horizon. My year in Canterbury was happy and deeply restorative. It did feel, finally, like arriving at the harbor I was bound for.
At the same time, I have never forgotten how deeply I was shaped by the journey, and the storm. During my weeks in Israel, I sank as low as I had ever sunk in my young life. And what I learned was that even when the deeps were closing over me and the light seemed so far away, there was something solid down there in the depths that let me push off, and push up towards the surface and the light once again.
Those days in Israel made Psalm 107 into one of my core texts, my heart-Scriptures, one of the places I go again and again to remember that experience of God's faithfulness.  To remind myself to trust, all over again, that I will, eventually, arrive in the harbor for which I am bound.
---
Miranda Hassett spent her first two decades planning to be a professor of anthropology, but then God yanked her sideways and she wound up as an Episcopal priest. She serves a parish on the west side of Madison, WI, and shares her home with her husband, two kids and two dogs. She is passionate about making stuff, good liturgy, global connections, and doing church as an alternative community of love, grace, and resistance.
---
Image by:
Florian Seiffert
Used with
permission
https://media.myworshiptimes31.com/wp-content/uploads/sites/3/2014/05/29170550/origin_3426788294.jpg
3177
4770
Rev. Miranda Hassett
https://youngclergywomen.org/wp-content/uploads/sites/3/2017/05/YCWILogo_Vert_Black-300x229.png
Rev. Miranda Hassett
2014-05-20 04:00:30
2015-02-17 20:03:36
At My Wits' End