---
Post Author: Lisa Horst Clark
---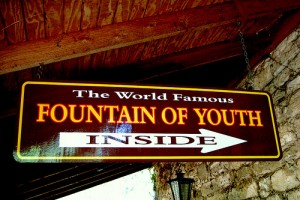 When I was interviewing for Field Ed placements in seminary, I spoke with a female pastor who left me with this reflection on her ministry: "I have blessed every gray hair on my head, because it has meant one less battle I've had to fight."
Although I believe this pastor was speaking from the best of her experience, her words horrified me. As a young, aspiring pastor, I was rather attached to my current hair color, thank you very much. Her comment supported my greatest fears of ministry, that the only way to pastoral authority was to wait it out until I lost one of The Young Clergy Women's identifiers: young.
The truth is that of the three, "young" is the descriptor I have struggled with the most in my first years of ministry. I felt a call to ministry early, and I followed it early, which meant going straight from college to seminary to my first church call made me about as "young" of a minister as I could be. Parsing out the question "Are you sure you're old enough to be a minister?" has lead me to a lot of thinking about youth and how it relates to authority.
In our culture, there are two distinct and contradictory ways of looking at youth. First there is the picture on a magazine cover, the plucky movie hero with new ideas, and the twenty-something idea maker. Youth is something to be prized, craved, and sought after. This perception of youth is part of why dismissive comments about youth can be seen as a compliment, because youth is always assumed to be a good thing. Youth is seen as an asset for women, and more than that, a source of jealousy.  As our congregations age, if there is one thing the church dreams of, it is youth. This can also mean that any young person accidentally becomes a potential savior and bringer-of-young-people. As the bright and shiny youth, it is hoped we can use technology and savvy to lure other youth back through the church doors.
The other perception of youth is that of the inexperienced no-nothing. I remember a clip from the film "Gran Torino" where Clint Eastwood scoffs at ever talking to a member of the clergy straight out of seminary.  In committee meetings, this often plays out in the assumption that the older people are leading. Wisdom and maturity are ascribed to a young person, only if followed by the phrase "beyond her years." And in churches, where many of the people with whom we work actually have children older than we are, we deal in part with parental and grandparental expectations.
I have struggled with both of these visions of youth, and have seen them both affecting my ministry.  At times I'm tempted to think it is true that I am the savior of the church, and if only someone would listen to my brilliant media-savvy self, then the Millennials would come running in droves. At times I am tempted to think that I am young and know nothing, that I shouldn't step forward, that I should be silent while others lead the meeting, that I need more years of experience before God can call me to speak and lead. At times, I am even tempted to believe the speech of the mentor long ago, and wish the years away until I too have the gray hair that stops many fights.
But here's the thing; I believe that God has called me to ministry. It is actually a completely audacious statement, that God-of-all-the-universe knows me, loves me, and needs me to serve.  My youth is neither essentially a help nor a hindrance, but a fact–part of who God called, along with all the rest of me. I believe that if I am faithful to my call, there are ways that God can use all of me for the good. I believe God called me in high school when I had my first inklings of service, at 21 when I felt a call to the church, at 25 when I began church work and now at 30 and beyond.  At each part of my life I had something to give, both essential to who I am, and some of which was unique for where I was in that stage of life, as my passions, my time, my perspective, and my loves changed.
So long as I wear the title "young" (and in the church one can wear it for quite a while), I hope to wear it with pride. And when it is time to put it aside, I hope that I can do so without relief or despair, but with the faith that I have carried it for the glory of God—to pass it on to some kick-ass clergy.
---
https://media.myworshiptimes31.com/wp-content/uploads/sites/3/2013/06/29170814/Fountain-of-youth.jpg
333
500
Lisa Horst Clark
https://youngclergywomen.org/wp-content/uploads/sites/3/2017/05/YCWILogo_Vert_Black-300x229.png
Lisa Horst Clark
2013-06-13 04:00:54
2018-11-13 11:45:29
Youth