---
Post Author: Beth Birkholz
---
Most of my pastor friends who are also moms have either younger children than I do, or much older.  Much has been written, and rightly so, about parenting a baby while you lead a council meeting, night nursing followed by church in the morning, and how to manage day care and babysitting with the odd hours of a reverend or two.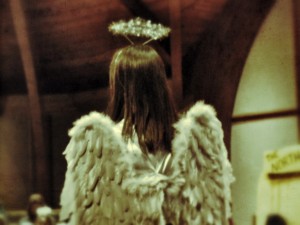 My daughter is entering the country that's now called "tween," and I feel like I'm making my own path, once again, through this weird place that's called being a pastor and also a mother.  So I write this with the hope of encouragement from someone who does not know more, but is a little further down the path.
My son is six years old, and my daughter is nine.  They're not babies, as they remind me daily, but they're also not teenagers yet.  We still snuggle them at night before they go to sleep (and sleep all night!  See, encouragement!), but we do have to remove earphones or Harry Potter from their beds first.  I'm sure the term "tween" was invented by some Disney marketing guru, but it fits where we are.  Between.
That being said, between is pretty great most days.  They go to school, so day care is not as much of a life-wrenching issue as it used to be, when we go to work (my husband is also clergy).  When one of us leaves for a meeting, they don't seem to mind (vs the leg-hugging antics of a few years ago).  My son sometimes will say, after a long day at work and school, "Mommy, I barely saw you for, like, two minutes today!"  But he doesn't seem to be traumatized by the fact, just managing his own busy life in addition to mine.
They go to church with me and they have their own world, now.  They have friends who they eat with and chat with, and my daughter volunteers for the crazy stunt that the Sunday School guys have cooked up that day.  My son tries to con his way into the donut holes in the teacher's lounge, and he's still little enough that he usually is allowed.  They go to worship and children's church, sing from the hymnal, and our organist says that my son sings the communion liturgy very well right when I do, from the pew behind the altar.
For the first time this year, on Christmas Day, my daughter acolyted, which in our church, means she lit the candles and put them out at the end.  It was a big, big deal, and she put on the white robe and did a lovely job.  My son read the prayer of the day from the pulpit like a little pro, which he had begged to do.  My husband, who doesn't serve the same church, assisted me in serving communion.  It was the first time that our whole family had leadership roles in worship at the same time, and I wanted to just freeze the moment when it was such a big deal, not a burden, and yet they were old enough to actually do it so well!
At night or in the car, they ask me questions about God.  Big questions, and they are not cute little letters to God.  My daughter asks why God allows pain, and I suspect she has questions that she doesn't ask except in her head.  She gets sad and complains about the unfairness of life because she never met my dad, her grandpa, who died before she was born. My son asks who made God, and how God got here to make everything else.  Also, why did God make bad stuff?  It's getting a little trickier to answer without platitudes or brushing it off.
Another way in which having older kids is a little more difficult to navigate is in voluntary simplicity, if that's your religious practice, or just living with a pastor's salary in an affluent area!  My daughter's good friend had a birthday party in THE destination for birthday parties where I live (true story: P. Diddy's daughter had HER party there!), and of course, my daughter wanted to have hers there as well.  But the cost….yes, we could have sprung for it, but we just were morally opposed, frankly.
We had to have a big talk about stewardship, and choices.  We explained, as we have before, that we try to use our money in ways that would be pleasing to God, and without judging the other family (see where this gets tricky?), that we don't think spending that much was a good choice for our family.  There were tears, and then there was a fantastic party at a local pizza and pottery place for 1/10 the cost.
I do still struggle with having such a crazy full-time job some days.  My husband is part-time, so that helps some, but I still feel that tug of shame or guilt or whatever it is that I can't make them cookies when they get home every day (I make them on my day off, okay?).  Sometimes I'm not sure what's going on with Girl Scouts or baseball, but usually my husband does.  Sometimes I wonder if they'll resent the church in the future for my working, though I've seen very little sign of that yet.  One of them did say the other day "stupid work!" and I heard myself echoed on my worst days.  Oops.
But something else happened that made it come sharply into focus for me, what I do and who I am.  My daughter sang in the choir last year, and while I was serving communion, I caught her looking up at me and smiling with this beautiful look of what I saw as pure pride.  I had a moment when I saw myself through her eyes….her mom, in a white robe, in a position of authority, giving out the greatest gift to hundreds of people.  I was so proud, so amazed, that she was growing up with a mom like me, and I can only hope and pray that she will see herself as someone who is worthy of power and authority, whatever job she chooses, because she saw that in me.
My son brought home a card from school where he was supposed to compliment his parents on something, and he wrote, "I'm proud of the way that you tell people about Jesus."  It doesn't get too much better than that, really.
Except for this.  I asked my daughter in the car the other night on the way home from swim practice (an excellent place for big conversations!) how she felt about having a mom who's also a pastor.  She said this: "I think it's awesome, because you get to do three things at once.  You get to be a pastor and tell people about God, and you get to take care of us, and you get paid to do it!"
She went on, "I think that God calls certain people to do things, like, you're like, God's storyteller.  I wonder what God will want me to do!"
And that, my sisters, makes EVERY BIT of my life worth it.
Photo by Beth Birkholz.
---
https://youngclergywomen.org/wp-content/uploads/sites/3/2017/05/YCWILogo_Vert_Black-300x229.png
0
0
Beth Birkholz
https://youngclergywomen.org/wp-content/uploads/sites/3/2017/05/YCWILogo_Vert_Black-300x229.png
Beth Birkholz
2012-05-24 04:00:33
2018-11-13 11:47:49
God's Storyteller