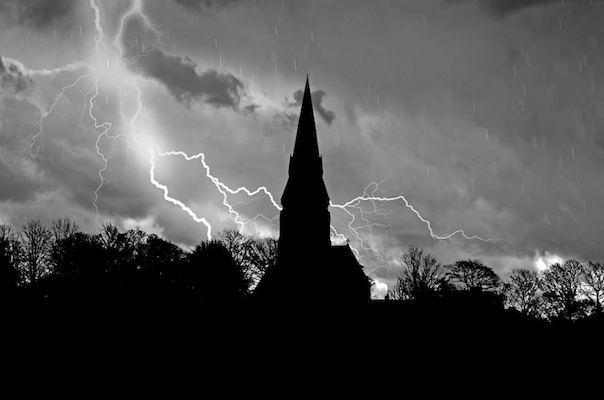 The theologian Karl Barth was known to have said that preachers should write their sermons with the Bible in one hand and the newspaper in the other. If he were alive today, he might have amended that statement to say that we should preach with the Bible in one hand and our Facebook news feed in the other. I have to tell you, there were two topics in particular that came up in my Facebook feed this week that we need to discuss here this morning. And while it might not seem so at first, they are actually related to each other.
The first was an article about church decline. I've seen dozens of similar articles shared by clergy colleagues, stating facts and figures about Christianity's demise in the West: noting a decline in church attendance and a decline in young clergy and the impending leadership vacuum it will create. All the statistics that we faithful people who come to church every week don't want to hear. These articles all speculate as to the reasons why people aren't finding church to be relevant anymore: we've watered down the gospel to create mass appeal, the enlightenment, the industrial revolution, capitalism and individualism, the internet, televangelists and millionaire celebrity pastors, church scandals, an increasingly secular culture… Perhaps all of these reasons are true, to a degree. The sum of it all, though, is what we need to pay attention to: that in rapidly increasing numbers, more and more people find church, Christianity, a life of faith, simply irrelevant.
The second was what happened in Charlottesville this weekend. In case you aren't aware, a debate over removing the statue of Confederate general Robert E. Lee from a city park in Charlottesville led to white nationalists planning a rally they dubbed "Unite the Right." There was also a call for 1,000 clergy and faith leaders to come to Charlottesville in prayer and community to counter-protest, and many Episcopal priests and bishops, as well as bishops and ministers from other Christian denominations, some of whom are personal friends, were among those gathered in counter-protest.
Starting Friday night, radical white supremacist protesters against the removal of the Confederate statue descended on Charlottesville. In a scene all too familiar to many who were part of the Civil Rights era, they marched through Charlottesville with torches in hand, shouting hateful racist slogans and terrorizing the counter-protestors. One colleague of mine posted a picture that he called "an enduring image" as to why he was there. It was taken inside the church where he and hundreds more faithful counter-protestors were gathered and showed a young girl, probably eight or nine years old, being held and comforted by the pastor of the church, with a terrified look on her face because white terrorists with torches in hand had encircled the church outside and were not letting them leave. The one difference was that now, there were no white hoods to mask their faces. Thankfully, the protest eventually was disbanded and they made it out alive.
The planned protest was for Saturday at noon, but it was cancelled before it even started. Saturday afternoon, in an act of domestic terrorism, a radical white supremacist drove his car into a crowd of peaceful counter-protesters, killing one person and injuring at least 19 more. Virginia declared a state of emergency, police were ordered to clear the area, and people were told to go home.
I'm so upset at this headline that I'm still struggling to find the words for it. I'm baffled, confused, and sickened. How was this allowed to happen? How can white supremacy—neo-Nazism—have such an organized stronghold, such legitimacy, in this country that literally fought against Nazis in a World War? Why are we calling this "white advocacy" and the "alt-right," using words normally associated with political issues, to tame down a non-political movement that has proven itself to be nothing short of domestic terrorism? How can there be such strong bleed-over between radical Christian fundamentalists and radical white supremacists, while the church stays relatively silent and allows them to corrupt the gospel? Read more
https://media.myworshiptimes31.com/wp-content/uploads/sites/3/2017/08/29165640/church-in-storm-just-race-aug-2017.png
400
604
Julie M. Hoplamazian
https://youngclergywomen.org/wp-content/uploads/sites/3/2017/05/YCWILogo_Vert_Black-300x229.png
Julie M. Hoplamazian
2017-08-17 10:21:49
2018-11-13 11:33:48
Dear Church: It's Time to Get Out of the Boat