---
Post Author: Katherine Willis Pershey
---
Editor's note: In celebration of our book partnership with Chalice Press, we are giving away a book from one of our YCW authors!  Please consider buying, reading, or even writing a book for TYCWP's imprint with Chalice Press.
In a Q&A for the Patheos Book Club, I was asked if I wrote Any Day a Beautiful Change with a specific audience in mind. I explained that, while it might be ambitious to claim this, I want to write for anyone and everyone, that there's something magical about entering the reality of someone wholly unlike you, and that I hope that all sorts of people will find something worthwhile in the book. But I also noted that memoirs always have an obvious first audience: people who share the same demographic as the author.
Which would be you.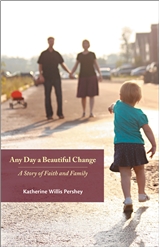 There is incredible diversity among us, no doubt. We hail from multiple nations and belong to diverse ethnicities and represent countless denominations. Within the membership of The Young Clergy Women Project there are parish pastors, hospital and college chaplains, and many others who work in creative ministries both within and beyond the walls of the church. There are theological conservatives and liberals; lovers of high church liturgy and closet charismatics. Our family situations are varied as well. There are women who are newly married and women who are newly divorced. There are solo parents, adoptive parents, foster moms, step-mothers of adult children, and women who are happily child-free.
And that's just the tip of the proverbial iceberg.
Yet we share a trinity of significant identity factors: we are young. We are clergy. And we are women. And by the grace of God – and the vision of our Susan Olson (our founding convener) and the generosity of grant-funding organizations and the hard work of our board members – we have this extraordinary Project that connects us and empowers us to be ever more faithful to our callings.
I've written before about how much The Young Clergy Women Project means to me.  But now it means even more. I'm incredibly honored to share a shelf with the other authors who have been and will be published through our imprint. From what I've read and heard of these books, I believe that this series will be a gift to the church. They will be read widely and acclaimed greatly. And I hope that for each one, the first and most enthusiastic audience will be the members of The Young Clergy Women Project. In a very real way, these are our books, written by our people: young clergy women.
In the introduction to my book, I wrote, "I didn't yet know if the story would end happily when I began telling it, but I staked my hopes in a vision borrowed from a favorite song lyric by The Innocence Mission: "At any time I could change, any day, a beautiful change." Mine is a story of beautiful changes: the birth of a daughter, the healing of a marriage, the closing of one good ministry and the start of another, committed to paper even as they were yet unfolding, between temper tantrums and arguments and committee meetings and lazy Saturday mornings spent at the ocean watching schools of dolphins feeding in the Santa Monica Bay. Any day, a beautiful change."

To celebrate the book release, I hosted a Blog Carnival called Any *May* a Beautiful Change in which bloggers were invited to share stories of their own beautiful changes. We're extending the party to the young clergy women – the first audience – and adding a giveaway. Chalice Press will send a free copy of Any Day a Beautiful Change to one randomly-selected winner. To enter, please leave a comment sharing one beautiful change you are celebrating or hoping for.
Thank you for celebrating our books!
---
https://youngclergywomen.org/wp-content/uploads/sites/3/2017/05/YCWILogo_Vert_Black-300x229.png
0
0
Katherine Willis Pershey
https://youngclergywomen.org/wp-content/uploads/sites/3/2017/05/YCWILogo_Vert_Black-300x229.png
Katherine Willis Pershey
2012-05-29 04:00:01
2018-11-13 11:47:49
One Beautiful Change