---
Post Author: Molly James
---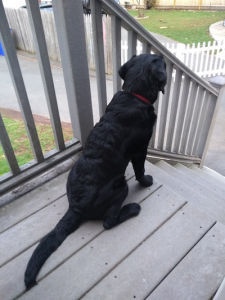 I have spent my final year on the Board editing the column, "Here I Stand." It has been a joy and a privilege to share the stories of my sister clergy women, their convictions and the remarkable experiences of their particular and diverse contexts. As I come to the end of my time as a part of the leadership of this amazing organization, I find myself finding some new inspiration from our puppy.
In January we brought home a new black lab puppy. His name is Espen (a combination of the Norwegian names for God and bear). Just like our last black lab, he is already teaching me profound lessons about who God is and who I am called to be. Our next door neighbors have a dog too. It is the highlight of Espen's day to be able to play with Benny. If we let him, Espen would spend the entire day just as he is pictured above. Sitting at our back door patiently waiting, ever hopeful that Benny will come out the door to play.
I have been struck by his patience and his ability to incarnate hope. It does not matter what time of day it is or how long it has been since Benny has come out. Espen lives out a conviction that new possibilities can happen at anytime. Past experience does not always have to be an indicator of the future. New realities are possible. To borrow from CS Lewis, at anytime, we can be "surprised by joy."
Patience is a virtue on which I am perennially working. I often feel in a hurry. There is too much to do and not enough time to do it. Espen has reminded me that the best things in life are always worth waiting for, even if they do not come on my timeline. Indeed, time to sit and contemplate is a rare thing in life, especially for those of us trying to juggle full professional lives with young kids. Thankfully, I now have a daily visual reminder that it is worth slowing down and waiting, even if it is just for a few minutes. Indeed this organization of YCWI did not get to where it is without a good amount of reflecting, listening and waiting on the Holy Spirit. These are lessons worth carrying with me as I move forward in my ministry.
And so is the reminder to always be filled with hope. It can be too easy to give into the anxiety that surrounds me. I can quickly give into my own fears for the future. Will I get to do everything I want to do? Will I get to see my children grow into the remarkable adults I know they will be? Life is precious and fragile. There are no guarantees for the future. The choice is mine. Do I want to live in fear or hope?
Thank goodness for my furry reminder to choose hope and possibility. There is so much more joy and life in that. I am going to choose hope, for myself, for my family, for my ministry, for the church and for YCWI. It is perhaps easiest to do so for YCWI, because it has been such a beacon of hope for me over the course of the last six years. I have continually been inspired by the ways in which we have collaborated and cared for each other, across time zones, denominational lines and theological differences. YCWI models for me the best of Christian community. We can support and empower each other, hold each other accountable and call each other to be our best selves. I am so very grateful for the gift of this community. It is something I will continue to carry as I go back to just being a regular member until 2020, and then on it the world of being an alum.
So, "Here I Stand" as a leader ready to turn it all over to those who will lead this organization in the future, and as one who is also learning that sometimes, the key to my own personal growth might also involve the occasional moment of sitting in hope.
---
Molly Field James is an Episcopal priest who serves on the Bishops' Staff as the Dean for Formation for the Episcopal Church in Connecticut. She holds a PhD in Theology from the University of Exeter (UK). She holds a MDiv from Yale Divinity School. She is an Associate Priest at Christ Church Cathedral and Grace Church in Hartford, Connecticut. She is currently an adjunct faculty member at Hartford Seminary and the University of St. Joseph. Previously, she has served as a parish priest and a hospital chaplain.
Her husband, Reade, is a mechanical engineer, and they have two children, Katherine who was born in October of 2010, and Halsted who was born in April of 2014. In addition to ministry and education, Molly loves cooking, reading, CrossFit and spending time in the splendor of God's Creation.
---
Image by:
Molly James
Used with
permission
https://media.myworshiptimes31.com/wp-content/uploads/sites/3/2018/06/29165433/espen-black-lab-here-i-stand-june-2018-featured.png
200
300
Molly James
https://youngclergywomen.org/wp-content/uploads/sites/3/2017/05/YCWILogo_Vert_Black-300x229.png
Molly James
2018-06-12 04:00:23
2018-11-13 11:32:01
Here I Sit