---
Post Author: Michelle Parsons
Part II in a series – read the first part of Michelle's story Epiphany in the August 2008 The Ones We Love column.
---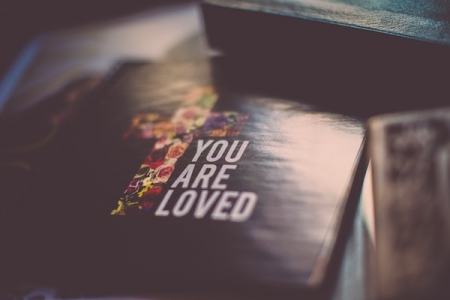 The doctor pushed the curtain aside and left to document the conversation in the file, leaving Shon and I to absorb the jagged pill he had just forced us to swallow. "There's something on the left side of your brain." How were we supposed to respond to that? No questions came to mind. There were no particular concerns I could voice. I really did not even have any feelings at all, save utter shock. In that moment of revelation I could only stare at my husband and try to imagine the big dark mass lurking underneath his
thick brown hair and perfectly smooth scalp. It had to be a joke.
As I gradually regained my senses, all I could think of was the Epiphany service I was supposed to be leading in a couple of hours. Not long before it had seemed vitally important for me to be there early to set up. Now my mind was trying to figure out how to cancel the whole thing. I picked up the emergency room wall phone and shared the devastating news with Shon's parents and then mine. One more time, I picked up the phone and called our volunteer choir director, Mickie, and told her the news. Mickie's response was to walk straight over to the ER—she lives across the street from the hospital—and give us both hugs and assurances. She asked where my notes for the Epiphany service were. I told her. "Don't worry about a thing, we'll be fine." And they were fine, the service went on, not as planned, but as needed, with lots of prayer.
Early on I learned that in order for me to keep my sanity, my job, and my family I had to communicate constantly with all parties. This was before we had a cell phone, so my fingers quickly callused from dialing the ga-zillion numbers required to make a call with a calling card through the hospital network. I kept our Clerk of Session and the Worship Committee Chair up-to-date, and notified the Executive Presbyter. They lined up pulpit supply for the two Sundays following Shon's surgery.
During the first two years after Shon's diagnosis, there were relatively few interruptions to my work schedule. He had no follow-up treatments, only MRIs every few months. The biggest lifestyle change involved the seizures. Shon was having about 16 seizures a month that affected every muscle on the right side of his body.
It took us a year and two doctors to finally reduce the severity and the number to around 3 per month. The seizures wore him out and often made him fall. They also made it impossible for him to drive. The Session and congregation allowed me to be flexible with my office schedule so I could take him to appointments, do much of my work from home and be with him on the days when he was especially weak.
The Session supported and encouraged my weekly meetings with a local Clergy Support Group as part of my Continuing Education allowance. All of the other pastors in this small group had several more years of ministry experience than I. I found it immensely helpful not only to vent frustrations and sorrows in their empathizing presence, but also to try out ideas and seek the advice of their collective wisdom. At this same time, I began seeing a counselor who helped and still helps me explore the deeper psychological and spiritual consequences of my experiences.
I look back on this time before the recurrence and think how easy things were then. Certainly they were not easy. But everything is relative; when the tumor came back in 2005, it was bigger, more aggressive, and we had a toddler. Life got exponentially more complicated!
Upon receiving the results of the imaging and pathology, Shon and I immediately sat down with the Session to talk about what the doctors were telling us to expect and how we might navigate the process together. My friend and mentor from a church down the road, who also happened to be on the Presbytery's Committee on Ministry, asked if she could help in any way. As my mind was clouded over by lack of sleep and constant worries, we invited her to moderate the meeting for me.
We began by sharing everything we knew about what Shon would be going through in the next year, as well as the doctors could predict. He would be undergoing a new and complex form of "awake" surgery that would allow the surgeons to go much deeper into the brain than before. The risks were too many and too great to fathom, but if all went well, he would begin a combination of radiation and chemotherapy in about two months, after his body had healed sufficiently from the surgery. After that would be another form of chemotherapy, the horrors of which we were yet to find out.
It was obvious to everyone that I would not be able to give both my husband and the church my full attention. Everyone agreed that my husband and daughter needed me more in that moment than did the church. We were blessed at that time with an elder who had years of experience in Human Resources. While the denomination had no precedent or policy, he helped the Session construct a paid Family Leave Time agreement. That night, they approved 12 weeks of leave at full pay, to be re-visited at the end of the term when we would know Shon's post-operative condition and details of his upcoming
treatment regimen. Shortly after this, our Presbytery approved a Family Leave policy for congregations to use as a guide in times of crisis.
The Committee on Ministry also began to work with the congregation's Worship Committee to fill the pulpit. Other pastors nearby offered to help with hospital calls. Much of the pulpit supply and visitation needs were taken up by the congregation's own Parish Associate, a dedicated retired pastor who had been with the congregation for some time.
Two of the biggest differences for me between the first surgery and the second surgery were (1) I got a cell phone and (2) I discovered Carepages.com. An elder, who is also a pediatric intensive care nurse, referred us to this website that many of her patients' families use. This tip was definitely sent from God, and saved my poor little fingers from dialing up more calluses. It allowed me to easily set up a blog spot from which everyone could be updated on Shon's condition at the same time, with pictures of Nellie to boot! This meant that family, friends, and church members were all getting the same information from me, without having to call fifty people.
Improved communication was highly beneficial because the summer after the surgery was especially hard. It was supposed to be time for Shon to rest up and regain his strength before radiation. And then Shon went and contracted two different staph infections for which he was in and out of the hospital several times. When he was at the hospital, I lived between hospital and home. When he was at home, I played nurse, giving him antibiotics via an intravenous line. If I learned anything that summer, it was that I was surely not cut out to be a nurse!
While I was torturing my husband with needles and syringes, the Deacons helped by lining up babysitters when Shon's family was not available to watch our daughter, Nellie. They also lined up meals that kept our fridge full for weeks and weeks. They also kept the prayer chain active and made sure we knew we were being lifted in prayer with frequent cards and emails.
One of our elders was also a trained lay pastor in the Presbytery. She had served in the pulpit, with visiting and other duties 20 hours a week during the 8 weeks I was on maternity leave in March-April 2005. We called on her expertise once again, this time as a Commissioned Lay Pastor, to fill in when needed and provide continuity going into the fall and spring. As horrible as the summer had been, we were told to expect things to get worse.
For the next twelve months, my schedule would be determined by the whims of Shon's body. For the most part, I was able to work full time, and did not miss too many Sundays in the pulpit. But there were many days when I had to drop everything and take Shon into St. Louis to see the doctor or stay up all night with a cranky baby and a husband who could not stop throwing up. Radiation left Shon with large, raw bald spots on his head. Forty-two weeks of chemotherapy finished the job, leaving him completely bald and half the man he was when he started, literally.
Today, Shon continues to recover from the chemotherapy that ended over two years ago. His once thick, brown hair is now thin and black with bald patches. His hands shake and his right foot drags. Still, most
folks would never guess by looking at him that he has brain cancer. Through it all he has taken care of two little girls, finished a basement, led a youth group, started an archery program and more. When I think about how I have made it through the past six years, I know the biggest factor has been the amazing strength and solid faith of my husband.
From the beginning, I have tried to be open and honest with the Session as well as the congregation about what was going on with Shon's health and my abilities (or lack thereof) to be an effective leader. They were willing to work with me through the confusion and the crisis, allowing me to work when I was able and be at home when I was needed. While I never donned sackcloth and ashes, neither have I held back my real emotions, often using them as a vehicle to explore the biblical narrative. There is a time and a place for everything, however, and I have attempted to keep the raw weeping and gnashing of teeth for home or the counselor's office.
Navigating a course in my time of personal and pastoral crisis has been an intuitive, communal process. God has reminded me again and again that I am not alone and I cannot do this alone. My sisters, I guarantee chaos will find you if it hasn't already. When it does, it will turn your life and your planning calendar upside down. I pray that you are strong in spirit and in faith. I pray that you are surrounded by
a loving family and network of friends. I pray that you are secure within an understanding and compassionate congregation. I pray that you have the courage to receive help and prayers, as I am sure you are quick to offer yours. I pray for your health and well-being. Peace!
---
Michelle Parsons serves as the pastor of Westminster Presbyterian Church in Belleville, Illinois.
---
Image by:
Rod Long
Used with
permission
https://media.myworshiptimes31.com/wp-content/uploads/sites/3/2008/09/29164809/you-are-loved-rod-long-divine-details-sept-2008.jpg
400
600
Michelle Parsons
https://youngclergywomen.org/wp-content/uploads/sites/3/2017/05/YCWILogo_Vert_Black-300x229.png
Michelle Parsons
2008-09-04 04:24:00
2019-09-05 14:23:05
I Cannot Do This Alone