---
Post Author: Phoebe Jones
---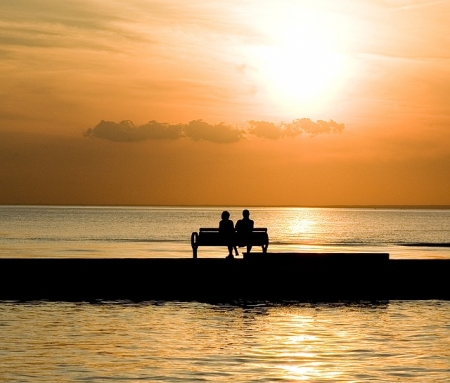 Seminary did a very good job at teaching me that it would be really hard—nay, impossible—to date anybody as a young clergywoman. "Don't even get your hopes up," should have been printed on my diploma. I, like many others, saw the flood of seminary classmates rushing down the aisle before heading off on internship or to their first church. It was not difficult to conclude that my chances of finding a rewarding relationship would plummet with the laying on of hands at ordination.
Now, fortunately I wasn't very good at the dating thing and didn't mind living alone, so it didn't seem like a huge deal. I'd just experienced the ending of a relationship gone sour, so was feeling particularly
inept at that kind of partnership. I also happen not to be a person who has always craved children or a husband. So, it was kind of a bum deal, but I had accepted and come to terms with the likelihood that I
would be a lifelong singleton.
Two years later, attending my first regional conference as an ordained minister, I met someone who changed everything. I won't say he's my soul mate, because this isn't an eHarmony commercial. But we (more or less) instantly connected, and suddenly we had to figure out how to date as pastors living 300 miles away from each other. How do you navigate those murky waters of being not-quite-single but definitely not being married? How do you draw the line between keeping your private life private and being open and honest with your people? How do you balance your need to be with this person with your call to be with your congregation?
It's hard to find others in our position with these questions. We went to a denominational young clergy conference and found there was a "married clergy couple" group and a "single clergy" group but nothing in the middle. Our generation has extended the time period between when a relationship becomes "serious" and when it moves to engagement and marriage, but the church hasn't made that same adjustment. It's either "get out there and meet a nice boy," or you're expected to be hearing wedding bells and choosing china patterns.
This is only one part of the church's massive disconnect with young adults. Generally speaking, the church just doesn't know what to do with people who are in committed, loving relationships but aren't necessarily rushing to the altar. The urge to "make it official" is less prevalent in many people our age—after all, we grew up during the years when divorce became commonplace. Today we have a greater awareness that not every relationship thrives with marriage. As a pastor in a church that doesn't know what to do with that more cautious aspect of me, I find myself hiding my relationship, even when I want to celebrate it.
Finally I decided that I had to tell somebody at church, and so before the next regional conference, I explained the situation to the congregants who would be attending the conference. I figured they had the right to hear it from me before hearing it through the grapevine or putting two and two together themselves. Their reaction was fascinating. It was clear that at first they expected me to announce within a matter of months that I was leaving to get married. They asked me to not reveal this "boyfriend" to anyone else in the congregation, because then they too would fear that I was on the verge of leaving.
I have tried to reassure them that, at this point, leaving is not on the table.  But because they are having trouble wrapping their minds around the concept of being in a serious relationship without marriage being imminent, my ability to reassure them is limited.  So to avoid a mass onset of congregational fear of abandonment, I have kept this relationship quiet.  I don't like that.  I don't like keeping this kind of a secret, but it almost feels like I don't have a choice.
There is a deep longing in every community of faith to be loved the way God would love, loved unconditionally. I can see that longing in my congregation: the longing to be #1 on my list of priorities, not having to share me with family, the longing for me to love them while they are alive and give them a good funeral when they die. But I cannot satisfy that longing for them. No one can love as unconditionally and eternally as God can. Someday there will come a day when I need to leave so I can discover what this relationship holds.
I don't know if we'll ever be able to explain our generation's approach to singleness, serious relationships, and marriage to these people. I don't know if I'll ever be able to convince them that they are worth loving too, even if I leave to love someone else more fully. But churches that ask a single person to be their pastor need an extra measure of flexibility and understanding while that person seeks the care and the intimacy that all of us need to find somewhere. All of us single clergy are trying to figure this out in a responsible, appropriate, and loving manner. Will our churches let us?
The two of us are still trying to figure out when the time is right to make a change in our living situations and the churches we are serving. But until then, we are doing our best to nurture our relationship with frequent phone conversations, trips to see each other on our day off, taking vacations together, and limiting the amount of church talk we share. I just hope we'll be able to decide together when the time is right for both of us.
---
Phoebe Jones (a pseudonym) is a young clergywoman ministering somewhere in the United States.
---
Image by:
GregoryBurgesss
Used with
permission
https://media.myworshiptimes31.com/wp-content/uploads/sites/3/2008/05/29164840/couple-bench-sunset-single-rev-may-2008.jpg
545
640
Phoebe Jones
https://youngclergywomen.org/wp-content/uploads/sites/3/2017/05/YCWILogo_Vert_Black-300x229.png
Phoebe Jones
2008-05-13 00:05:00
2019-08-30 17:19:33
Living and Loving in Limbo