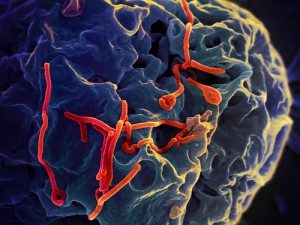 A little over a month ago a man named Thomas Eric Duncan was getting ready to leave Liberia for Dallas, Texas. Prior to departing he helped a neighbor get a sick pregnant woman into a car to go to the hospital for medical care. Or so is the story the media twisted, and spun out of control. (Since Duncan's death, the Dallas News published a letter from Duncan's nephew disputing that story.)
Whatever the truth, I resonate with that story: I'm in the last months of pregnancy, waiting to deliver my daughter at Dallas Presbyterian Hospital, the same hospital where Duncan was quarantined, treated for Ebola, and eventually died.
West African countries have been battling Ebola for months, treating thousands of cases. Americans didn't tune in to the magnitude of that story until one case popped up in one city in one western country. The media descended, and anxiety rose and infected the Dallas community and the country more quickly than Ebola could.
It became clear to clergy including myself that fear and anxiety were what we had to reframe and fight. We had to keep calm and carry on with hope.
At my church, my colleague and I preached, prayed, and tried to live out calm in the midst of crisis.
Living out calm meant I went about ministry as usual visiting parishioners who were hospitalized at Dallas Presbyterian, and going to my own obstetrician check-ups there. I didn't think twice about continuing with my doctor and pushing forward with our plans to deliver our firstborn at Presbyterian Hospital.
I also continued to go about the parts of my ministry that took me to Vickery Meadows, the neighborhood where Duncan has lived with his fiancée, Louise Troh.
I attended a parent meeting at McShan Elementary School in the heart of Vickery Meadow to share information about the community garden our church started, and an upcoming event. The discussion came round to Ebola. As panic alarm bells were sounding and paranoia was setting in the principal said this, "We are all neighbors, and this is a multicultural community. You have nothing to fear. We encourage you to keep on supporting each other, and we will not tolerate bullying or isolation of others."
She preached to me, and I've held her words in my head over the last month: "You have nothing to fear."
Other ministers closer to the situation, like Rev. George Mason of Wilshire Baptist church spoke eloquently on national television putting out an alternative to the frenzied media story…one of love, care for our neighbor, and compassion as his congregation ministered to Louise Troh, a member of their congregation.
A few weeks ago another colleague, Rev. Brent Barry invited an ecumenical group of clergy to lead a prayer vigil for hope. The mayor came to speak, but also to find solace.
As the third case emerged and anxiety and fear became more widespread, the mayor held a conference call for faith leaders. He encouraged us to share a message of love and hope. He preached to me, reminding me that Jesus ministered to the lepers, and that the early church stood in the gaps when others were abandoned. Now, more than ever we were needed.
When I get a concerned call from a loved one or church member about plans to deliver my firstborn at Dallas Presbyterian, I'm not worried. I fight the fear with facts: I've not touched the fecal matter or bodily fluids of the 3 Ebola patients, and neither has my doctor. I'm fine, and the baby is fine. Keep calm and carry on with hope.
When I encounter a neighbor or friend who is concerned about us welcoming "those people" from Vickery Meadow into our neighborhood or houses of worship I ask them these questions: Why are you afraid? Have you come into contact with the fecal matter, bodily fluids, or urine of those 3 people? No? Then you're just fine. Keep calm and carry on with hope.
Now, more than ever our neighbors in Vickery Meadow or West Africa need us to love them, to welcome them, and to embrace them. They need hope, and I pray that we can continue to remember those lessons once this Ebola story ends. Shunning, and living in fear is not our story as Christians nor is it the Gospel call to hope.
I can't wait to tell that story of hope to my baby girl when she is born one of these days at Dallas Presbyterian Hospital. Maybe I'll even get one of the coveted birthing tubs since so many other pregnant women have changed their hospital out of fear.
https://media.myworshiptimes31.com/wp-content/uploads/sites/3/2014/11/29170424/medium_14712446017.jpg
375
500
Susan Sytsma Bratt
https://youngclergywomen.org/wp-content/uploads/sites/3/2017/05/YCWILogo_Vert_Black-300x229.png
Susan Sytsma Bratt
2014-11-04 04:00:47
2015-08-25 18:15:56
Keep Calm and Carry on with Hope