---
Post Author: Stephanie Sorge
---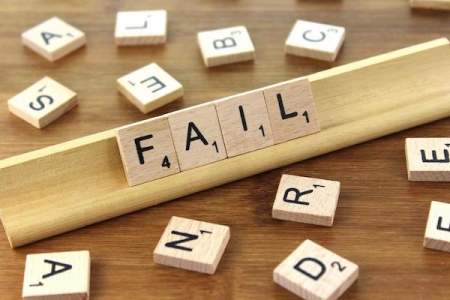 I doubt anyone really enjoys failing, but some of us seem to be especially hard-wired to avoid it at all costs. Failure doesn't feel good. It doesn't make us look good. When interviewing for a new job, one doesn't often lead with a list of greatest failures, but some are suggesting that, perhaps, we should.[1] They tout the benefit of "failure resumes," which are likely to be far longer and more extensive than the real resumes or CVs we present to the world.
In my denomination, the Presbyterian Church (USA), our call process invites candidates to answer four narrative questions: 1. Describe a moment in your recent ministry that you recognize as one of success and fulfillment. (Forget failure – let's talk success!) 2. Describe the ministry setting to which you believe God is calling you. (A successful one?) 4. Describe a time when you have led change. (If we're honest, this invites talking about failure, because leading real change inevitably involves some failure along the way).
It's the third question that has always baffled me. 3. What areas of growth have you identified in yourself? Is an "area of growth" a place where we have grown and shown more success? Or is it a place where we identify more room for growth – and thus places where, perhaps, we have failed? In conversation with colleagues, the resounding answer was the former, following the general rule that nothing negative should be written on the form.
We've all been coached to answer questions about weaknesses by highlighting our strengths, right? I'm reminded of an episode of The Office, one of my favorite shows, where Michael Scott is in an interview and asked about his greatest strengths. Instead, he responds: "Why don't I tell you what my greatest weaknesses are? I work too hard, I care too much, and sometimes I can be too invested in my job."[2] Whatever the field, we want to put our best foot forward. Competition can be fierce. Why hobble ourselves by exposing failure, no matter how big or small?
The proponents of failure resumes argue that we learn more from our failures than we do from success. Lessons learned from failing are hard-won, and they stick. In The Art of Possibility, Rosamund and Benjamin Zander suggest that the best response to failure is to throw one's hands in the air and shout, "How fascinating!"[3] If we want to unleash more of our creative potential, we need to embrace failure as the best teacher available.
I'd like to think that work in the church is somehow less driven to achievement and success than the secular world, but that's not often true. We still tend to measure our ministries in calculable units like members, average attendance, and dollars given. Those numbers are increasingly obsolete in giving any meaningful assessment of any particular ministry, but one would be hard pressed to find many churches that have moved on to more meaningful metrics.
Sometimes failure is about numbers. One colleague shared about planning an event where she assumed seventy-five – roughly half – of the high school students would come. Money was paid to rent space, hire additional staff, and in the end, only two students came to the event. How fascinating! Another shared a story of having to cancel a church event that had been a beloved tradition for twenty years due to the fact that when registration closed, only a handful had registered to go, and they were all on staff. How fascinating! There are plenty of stories of calls that have gotten rocky or even been terminated because of declining attendance numbers or increasing budget shortfalls. How fascinating?
In some ways, dealing with those kinds of failures is relatively easy. At the very least, churches and pastors are in excellent company these days, as numbers tend to be in a downward shift across the board. It's the failures that can't be quantified as easily that are often the hardest to handle. There are worship services that just fall flat. Communication is always a challenge, with opportunity to fail abundant. Misprints and typos can range from distracting to causing deep hurt. When a name is left off of the birthday list, or an announcement or prayer concern doesn't get effectively shared, it is not very fascinating.
There are the times when we've failed to make the right call about when to visit, or when to leave. Times we've inadvertently hurt feelings – at times even lost relationships through no real discernible fault of our own. When individuals or families leave a church, it hurts and feels like a very real failure – and one that is on display for all to see. Even if the leaving is sometimes a good thing for all parties – failure, failure, failure.
I was recently at a retreat center that had a large sign at the entrance – a slogan that appeared throughout the property – "Jesus Never Fails." One of my colleagues pointed out that Jesus actually did fail. Isn't that the heart of the crucifixion? Some might respond that it was the greatest victory, but it certainly didn't feel like a win on Good Friday. For those who were expecting a different kind of savior, it appears that maybe, Jesus did fail – their expectations, at least.
We follow a savior who had no time or concern for building a brand or curating a certain personal image. We follow a savior whose grand plan ended in death. It's the call and path we share, if we are to follow faithfully.
One of my favorite sentences in our Book of Order is this: "The Church is to be a community of faith, entrusting itself to God alone, even at the risk of losing its life."[4] Becoming the people and the community of faith that God calls us to be is risky business. Potentially life-threatening. Failure is pretty much a given. If all we experience is success, are we risking enough to be called true followers of Christ?
Failure in the church and in our lives is part and parcel of being human. If we're not failing, we're not risking. We're not really trusting in God, we are trusting in ourselves. If we're succeeding just fine on our own, we're leaning on our own strength rather than embracing the freely given gift of grace that God offers. Admitting – even broadcasting – our failures can be counter-cultural in the best ways possible, and in the church we have a unique opportunity to lead the way.
If our failure resume in the church isn't at least twice as long as our CV of success, are we bold enough in following the one who calls us to the riskiest ventures? Are we courageous enough to move past the safe and comfortable? Are we willing to be faithful in things small and large, even if we might fail big? Is there any other way to follow Christ?
__________
[1]https://www.nytimes.com/2019/02/03/smarter-living/failure-resume.html, http://mentalfloss.com/article/573154/failure-resume-benefits
[2]https://www.businessinsider.com/how-to-answer-what-is-your-greatest-weakness-2016-6
[3]Zander, Rosamund S, and Benjamin Zander. The Art of Possibility. Boston, Mass: Harvard Business School Press, 2000. Print.
[4]F-1.0301 Book of Order,Presbyterian Church (USA), 2017/2019.
---
Stephanie is a pastor and mother who fails pretty often, but finds grace and love in God and in the community of faith at Trinity Presbyterian Church in Harrisonburg, Virginia, where she is grateful to serve as Pastor.
Before moving to Harrisonburg, she failed while serving churches in Kentucky and North Carolina. She had plenty of failures while studying at Kenyon College and Louisville Presbyterian Seminary, and between the two failed pretty spectacularly in four years of nonprofit organizing.
---
Image by:
Nick Youngson
Used with
permission
https://media.myworshiptimes31.com/wp-content/uploads/sites/3/2019/04/29165156/fail-scrabble-tiles-hggb-apr-2019.jpg
400
600
Stephanie Sorge
https://youngclergywomen.org/wp-content/uploads/sites/3/2017/05/YCWILogo_Vert_Black-300x229.png
Stephanie Sorge
2019-04-09 04:00:16
2019-08-15 14:06:25
Fascinating Failure