---
Post Author: Suzanne Stovall Vinson and MaryAnn McKibben Dana
---
For this, our inaugural feature, we bring you two very different pieces, "On Women and Children and Poverty," a visual piece by Suzanne Stovall Vinson, and "&," a poem by MaryAnn McKibben Dana.
While the medium and focus of the two pieces differ from one another, each piece speaks to the particularity of women's experience while touching on broader themes that unite many of us.
Are you a poet, fiction writer or visual artist? We want to hear from you! Please see our submission guidelines for more information.
And now, on to Christ & Creativity…
On Women and Children and Poverty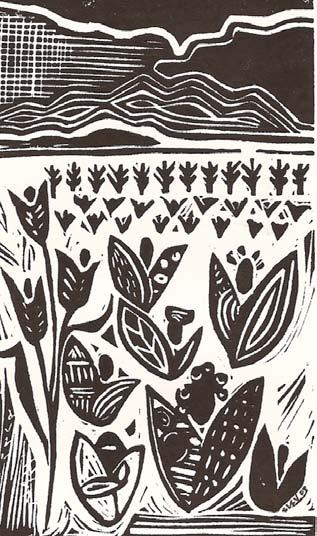 ---
& (and)
what are your aspirations
for your writing?
asked the Artist,
who writes and creates
fulltime from her home studio,
whose Room of One's Own
i covet.
to write and be read,
i answered,
and the response seemed stupid,
simplistic,
but it's the best i could manage
without getting into it:
how i type one-handed, pecking quiet keys
with a baby curled around my middle;
how i climb into a pulpit, spread out pages of a
good-enough manuscript,
letting the masterwork that might have been
(had the meetings not piled up, had the death not occurred)
float silently away;
how i find the phrase
that breaks open a poem's stuck door,
and pray it doesn't blow shut
before i finish playing chutes and ladders.
you see, i am no artist,
i am
ministermothermate,
preacherparentpastorpoetpartner
& & & & &.
my aspiration?
to live the &
as best i can,
to glide down its sloping slide
and land in a heap, laughing;
to nestle in its hammock
and swing, and doze, content;
to hoist myself onto its narrow dais
and offer to the world
whatever I have to give.
---
Suzanne Stovall Vinson is an ordained minister serving as Chaplain in Richmond, Virginia. She is a "mostly" self-taught artist working in a variety of artistic mediums. For use of the print, contact her.
_______________
MaryAnn McKibben Dana was the editor of Christ & Creativity for Fidelia. A minister in the Presbyterian Church (USA), she is a 2003 graduate of Columbia Theological Seminary in Decatur, Georgia. As a poet and writer, her work has appeared in various books, webzines and print journals, including a monthly column for Presbyterians Today.
MaryAnn is married to Robert Dana and they have two daughters, Caroline and Meg, and a son, James. When she's not fretting over how to handle three children under the age of five, she likes to knit splendidly imperfect and misshapen projects.
---
Image by:
Suzanne Stovall Vinson
Used with
permission
https://media.myworshiptimes31.com/wp-content/uploads/sites/3/2007/10/29165227/women-poverty-woodblock-creativity.jpg
536
317
Suzanne Stovall Vinson and MaryAnn McKibben Dana
https://youngclergywomen.org/wp-content/uploads/sites/3/2017/05/YCWILogo_Vert_Black-300x229.png
Suzanne Stovall Vinson and MaryAnn McKibben Dana
2007-10-01 04:30:00
2019-02-03 15:01:42
This Month: Visual Art and Poetry